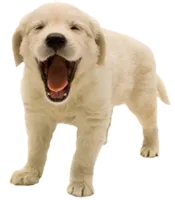 At Aggie Animal Dental Center, we provide the highest level of dental care for your four-legged family members. Becoming a Board-Certified Veterinary DentistTM requires an additional 3-4 years of training after veterinary school. Because there are very few Board-Certified Veterinary DentistsTM in Northern California, our services are in high demand, and there is often a 5-6 month wait for initial consultation appointments; the wait is shorter to see our resident veterinarian, who is training to become a specialist.

**If your pet has an oral tumor, stomatitis, or another serious oral health concern causing him or her not to eat well, we do have urgent care appointments available. To make an urgent care appointment please contact us at 415-389-5917.
Urgent care appointments are restricted to maxillofacial trauma (jaw fractures), oral cancers, and severe stomatitis causing failure to eat. If your pet has a fractured tooth, severe periodontal disease with loose or abscessed teeth, or resorptive lesions, your family veterinarian can prescribe antibiotics and/or pain medications to help keep your pet comfortable while waiting for his or her appointment with us.
Once we see your pet for a consultation, the procedure will typically be scheduled within 1-3 weeks. The initial consultation costs $215 for a Board-Certified specialist and $175 for a resident veterinarian. There may also be fees associated with diagnostic tests (usually blood tests) at the consultation visit. If your pet needs a procedure, a deposit will be collected when the procedure is scheduled (which is usually at the conclusion of the consultation visit; please have your calendar handy at the consult visit).
Looking for information about the cost of dental cleaning? Here at Aggie Animal Dental Center, your pet's dental cleaning procedure will include the following: intraoral x-rays and cone-beam CT, comprehensive dental and oral health examination (also called diagnostic dental charting), ultrasonic scaling above and below the gum line, and polishing. The x-rays/CBCT and initial scaling are performed by an experienced veterinary technician. The oral health examination, additional subgingival scaling, and any advanced periodontal therapy or oral surgery necessary are performed by a Doctor. Technicians do not perform extractions at our practice. A technician anesthetist is assigned to monitor each patient throughout his or her procedure, and a Board-Certified Veterinary Anesthesiologist is on-site, rotating through operating rooms in our clinic and The Sams Clinic, with whom we share a building.
With this high standard of care, the cost of routine dental cleaning at our specialty hospital ranges from $2000-2300, with larger dogs being at the high end of that range. If extractions, advanced periodontal therapy, biopsy or other procedures are indicated, additional fees apply. At the completion of the initial consultation visit, you will be given a general estimate for the recommended treatment based on the oral examination findings and anticipated treatment required. Most patients who require extractions have bills in the $3500-5000 range, but fees can be significantly higher. Extensive extractions, root canal treatment, jaw fracture repair, or oral oncologic surgery often involve fees of more than $7500.
REFERRAL POLICY
For new patients, a referral from your pet's family veterinarian is required. At this time we are unable to see pets that need only routine dental cleaning/preventive oral health care unless there are significant underlying medical issues that warrant our extra expertise in anesthesia.
Although a referral is not mandatory to schedule an appointment for pets with other concerns, patients are usually seen on a referral basis from the primary care veterinarian. For all patients, we will need information about your pet's medical history. Your veterinarian can provide this to us by phone, fax (415-532-2257), e-mail, or letter. If anesthesia and treatment are planned, your veterinarian may also run blood tests, take chest x-rays, or perform other tests prior to your appointment with our doctors. If your pet has a heart murmur, we will likely require consultation with a cardiologist and ultrasound of the heart prior to anesthesia. We have extensive experience treating patients with heart disease; on any given day we may have several patients with heart murmurs undergoing anesthesia. (Just as in a hospital for human patients, a Board-Certified Anesthesiologist is on site, rotating through operatories at our clinic and the adjacent Sams Clinic to check on each patient intermittently. Please note that, due to the number of patients being anesthetized simultaneously at the two clinics, we are no longer able to offer continuous presence of a Board-Certified Anesthesiologist for any specific patient.)
In order to assist your family veterinarian in maintaining current records and continuing a close relationship with you and your pet, a written report summarizing the diagnosis, treatment, and follow-up recommendations will be sent (by e-mail or fax) to your primary care veterinarian after your pet's visit. After your pet's procedure, photographs and other diagnostic images from your pet's procedure will be visible online, and this will be shared with your family veterinarian as part of the visit summary.